Bond Industrial Park
The airport Bond Industrial Park is an extension to the airport Bond Logistics Park and also under the Customs Bond model. The commodities could be assembled by CKD/SKD processing or other value added model under Customs bond. The commodities could be considered as "Assembled in Germany" or "Made in Germany" with value added determination in the Bond Zone by EU regulations and policies.

The goods from the EU countries' "preferential origins" can enjoy reduced or zero tariffs in some countries, according to mutual agreements between the European Union and relevant countries (favored countries) to provide tariff preferences. Products labeled "Made in Germany" can be imported into Egypt, Albania, Chile, Morocco and so on with reduced or zero tariffs. More about "Made in Germany".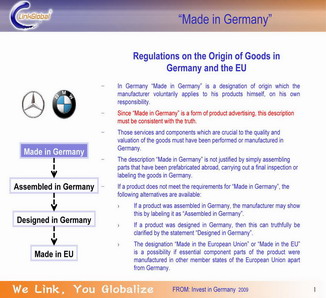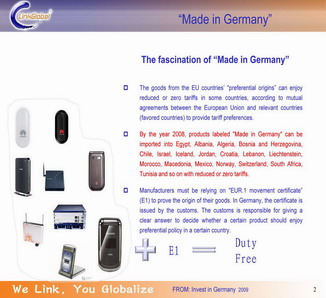 DOWNLOAD

Guide to "Made in Germany" by IHK
Should commodities be imported into EU market, the duty or tax will ONLY apply to the value of its raw material or spare parts. VAT will apply to the part where value is added. No import procedure should be applied if the commodities are transit to other countries or Bond Zone within or outside EU.