Developer and Forwarder Co-develop PIA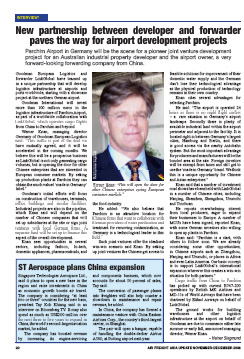 Parchim Airport in Germany will be the scene for a pioneer joint venture development project for an Australian industrial property developer and the airport owner, a very forward-looking forwarding company from China.
Goodman European Logistics and forwarder LinkGlobal have teamed up in a unique partnership that will develop logistics infrastructure at airports and ports worldwide, starting with a showcase project at the northern German airport.
Goodman International will invest more than 100 million euros in the logistics infrastructure of Parchim Airport, as part of a worldwide collaboration with LinkGlobal, which operates cargo flights from China to Parchim and beyond.
Werner Knan, managing director Germany of Goodman European Logistics said: "This traffic is part of the deal we have mutually agreed, and it will be accelerated in the coming months. We believe this will be a prosperous business as LinkGlobal is not only generating cargo volumes, but is opening the door for other Chinese enterprises that are interested in European consumer markets. By setting up production plants at Parchim they can obtain the much valued 'made in Germany' label."
Goodman's initial efforts will focus on construction of warehouses, terminals, office buildings and similar facilities. Industrial projects are also in the pipeline, which Knan said will depend on the number of Chinese companies that will set up subsidiaries at the site or sign joint ventures with local German firms. A separate fund will be set up to finance this aspect of the overall development.
Knan sees opportunities in several sectors, including fashion, hi-tech, domestic appliances, pharmaceuticals, and the food industry.
He added: "We also believe that Parchim is an attractive location for Chinese firms that want to collaborate with German providers of water purification and treatment for removing contamination, as Germany is a technological leader in this feld."
Such joint ventures offer the idealised win-win scenario said Knan. By setting up joint ventures the Chinese get access to feasible solutions for improvement of their domestic water supply and the Germans don't lose their technological advantage as the physical production of technology remains in their own country.
Knan cites several advantages for selecting Parchim. He said: "The airport is operated 24 hours as there is no night flight curfew– a rare situation in Germany's airport landscape. Secondly there is plenty of available industrial land within the airport perimeter and adjacent to the facility. It is located right in between Germany's largest cities, Hamburg and Berlin, and there is good access via the nearby Autobahn system. But the most important advantage forproducersandmanufacturerswillbethe bonded area at the site. Foreign investors will be exempt from taxes and still get to use the 'made in Germany'brand. We think this is a unique opportunity for Chinese and Asian enterprises."
Knan said that a number of investment roadshowshavebeenheldwithLinkGlobal in a number of Chinese cities, including Nanjing, Shenzhen, Shengzhou, Urumchi and Yinchuan.
He reports overwhelming interest from local producers, eager to expand their businesses to Europe. A number of MOUs have been signed, reported Knan, with some German investors also willing to open up plants in Parchim.
Knan said: "Parchim is a start, with others to follow soon. We are already considering some other opportunities; in Chinese airports such as Zhengzhou, Nanjing and Urumchi, or places in Africa and even Latin America. Our basic concept is to support LinkGlobal's international expansion wherever this creates a win-win situation for both partners."
Cargo traffic from China to parchim has picked up with current B747-200 operations by British MK Airlines and MD-11s of World Airways that have been chartered by Etihad Airways on behalf of LinkGlobal.
The ground works for building warehouses and other logistics infrastructure at the airport on behalf of Goodman are due to commence either late summer or early fall, announced managing director, Werner Knan.


AFA about Parchim report.pdf